How do they do it? Laura and Kazan always come up with the greatest sketches for us to use on our projects! They never cease to amaze me with their creativity in providing sketches as well as stunning samples that they've created themselves to inspire us! I just love checking the 2 Sketches 4 You blog every Monday to see what they and the DT have created for the week!
This week Kazan has provided another terrific sketch to work with! This is my take on it: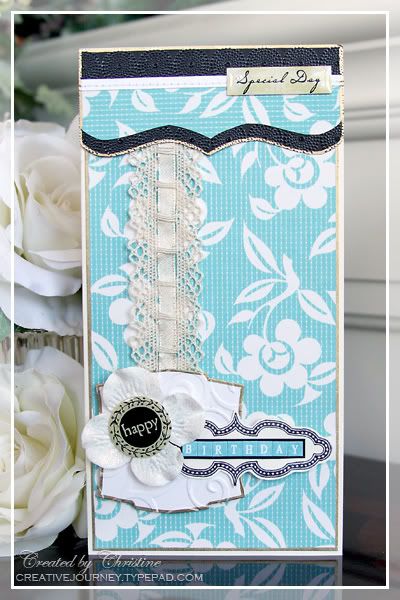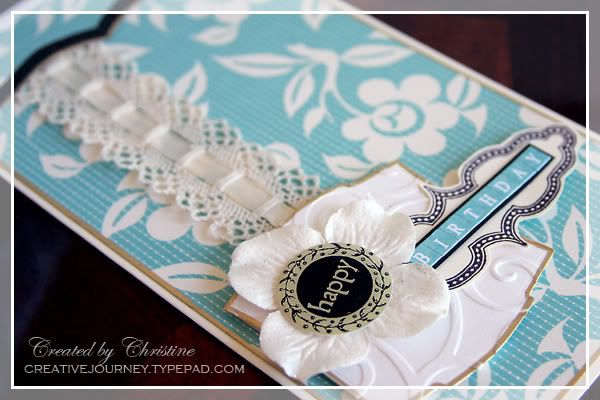 Aqua Birthday Card
Cardstock: Stampin' Up
Patterned Paper: Scenic Route, SEI (black)
Stamp: Purple Onion Designs (label)
Mini alphabet stickers: Carolee's Creations
Flower: Prima
Epoxy sticker: Creative Imaginations
Label die: Spellbinders
Embossing Folder: Provo Craft Cuttlebug
Lace: Carolace
Other: sewing machine thread


Also, I have another milestone to celebrate! This blog has just gotten its 50,000 hit yesterday! I just want to send you all a big hug along with my gratitude for making that possible! :-D
To celebrate I am offering this RAK:
This RAK includes some of my favorite things:
12 specialty patterned papers from the Making Memories Sabrina collection
(2 of each design shown)
1 package of pink Making Memories chipboard alphabet
1 package of Bazzill pink blossoms
1 yard white ric rak
1 yard pink ric rak
1 package Heidi Swapp pink chipboard circles
1 package Heidi Swapp pink chipboard name plates
1 package Pink Paislee rub ons
A Melissa Frances chipboard heart mini album
1 package Prima Say it in Crystals swirl
To have your name entered into this RAK, simply post a comment here. For five extra entries, post a link to your blog sharing this blog candy with others!  Easy, right? You'll have until this Sunday night, January 25th at 11:59 p.m. Pacific Time to post a comment and/or link here.
Thanks for playing and have a wonderful day!